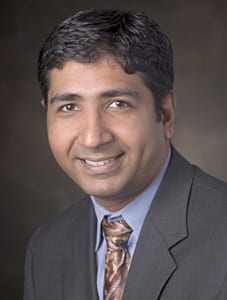 Strategy, International Business & Entrepreneurship
Professor Iyer's research focuses on behavioral theory applications and corporate strategy based decision-making, innovation, and the performance implications of firm actions. His work has appeared in leading journals including the Academy of Management Journal and Journal of Business Research. Professor Iyer's research has been presented at the annual meetings of the Strategic Management Society and Academy of Management.
After completing his Ph.D. in strategic management from Purdue University's Krannert School of Management, Professor Iyer taught business policy and strategy at Undergraduate, MBA and Professional MBA programs at Ohio University. In addition to his academic career, his industry experience includes conducting audit services in India and the US, and managing a retail store in Nigeria.
Research Interests: Strategy
Courses Taught: Business Strategy & Corporate Strategy
Professional Activities and Honors:
BPS Dissertation Award Finalist, AOM 2008
Journal Publication Award (COB, Ohio University), 2007
Purdue Research Foundation Grant 2005-2006
Strategic Management Society Doctoral Workshop, 2005
Academy of Management, BPS Doctoral Consortium, 2005
Krannert Management Award for Teaching Excellence, 2003
Strategic Management Scholar Award for Doctoral Study, 2003-2005
Ross Doctoral Fellowship, 2002
Rookie of the year award, GBQ Partners, 2002
Member of Honor Society, Beta Gamma Sigma, 2001
Representative Publications:
Iyer, D. N.. Bau, Massimo., Chirico, F., Patel, P., & Brush, T.H. (2019). "The Triggers of Local and Distant Search: Relative Magnitude and Persistence in Explaining Acquisition Relatedness".  Long Range Planning, 52(5).
Ruth, D., Iyer, D. N., & Sharp, B. "Motivation and Ability in the Decision to Acquire". Journal of Business Research. Forthcoming (Available online March 2012).
Iyer, D. N., & Miller, K. D. 2008. "Performance Feedback, Slack, and the Timing of Acquisitions". Academy of Management Journal, 51(4): 808-822.