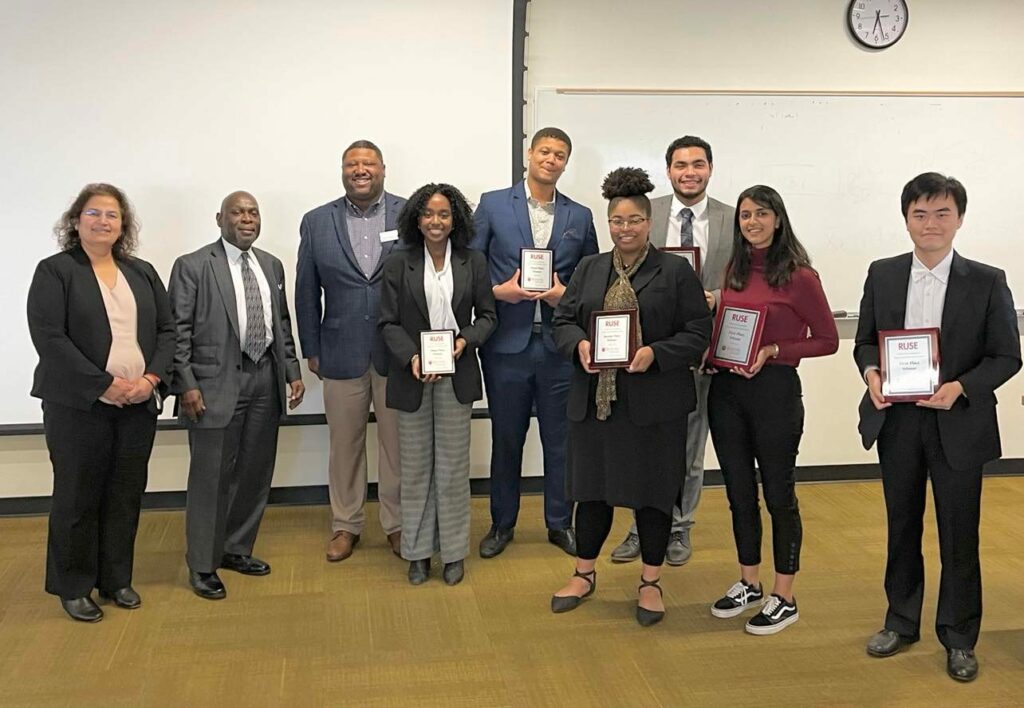 2022 Undergraduate Winners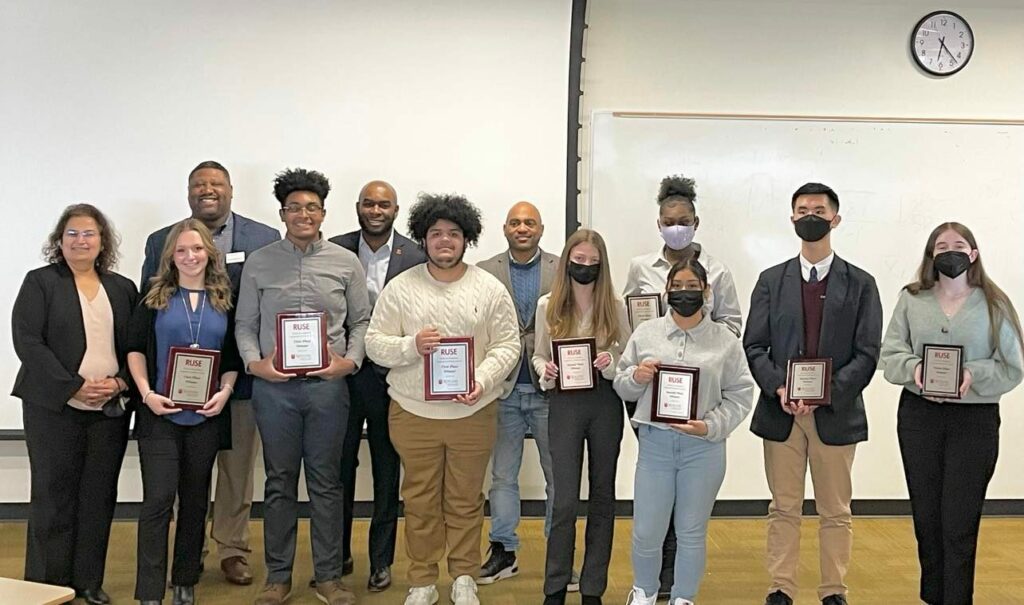 The Rutgers University Student Executive (RUSE) Program successfully completed its fifth year of the innovative business and entrepreneurship program on March 29, 2022. The program met online for the first eight weeks and held its final pitch competition and reception in-person for the first time since the start of the COVID-19 pandemic. Sponsored by Rutgers School of Business–Camden (RSBC), RUSE is a nine-week program, which is designed to introduce high-achieving, underrepresented 10th, 11th, and 12th grade South Jersey high school students and Rutgers-Camden undergraduate students to business, entrepreneurship, and community and business leaders.
For the second consecutive year, the RUSE program had an undergraduate track that allowed current Rutgers–Camden students to compete for award monies sponsored by the African American Chamber of Commerce of New Jersey. The High School Track awards were once again sponsored by the Delta Epsilon Boulé of Sigma Pi Phi Fraternity, Inc. The 1st, 2nd, and 3rd place awards for both the undergraduate and the high school students were $1500, $1000, and $500, respectively.
The first place winners in the high school track were Emmanuel Ortiz (senior at Williamstown High School), Madison Gaughan (senior at Cherokee High School), and Justin Campbell (sophomore at Camden County Technical School-GTC). The team won $1500 for their business idea, Stick & Click, a small tracking GPS- and Blue Tooth-enabled tracking device that consumers can use to stick on items that they would want to be quickly found if they lost them. "It was such an amazing experience to be able to learn from all the different presentations and meet new people. It pushed me even more to become the entrepreneur I seek to be!" said first place winner, Madison Gaughan.
The second place winners from the high school track were second-time RUSE participant, Rachel Osias (junior at Marlboro High School), Paola Vazquez Benito (sophomore at Camden County Technical School-GTC), and Ivan Wu (junior at Leap Academy University Charter School) for their business idea, Syre, a patch system designed to be built into tires that would prevent them from going flat for up to 75 miles when punctured.
Third place winners from the high school track were Jocelyn Vigh (sophomore at Burlington Township High School), Alexandra Himmel (sophomore at Haddonfield Memorial High School), and second-time RUSE participant Taylor Baynes (junior at Timber Creek Regional High School) for their business idea, Eye Spy, infant/toddler sunglasses that are durable and expands to fit as your child grows. "RUSE was a really great experience for me. I learned a lot from all of the guest speakers that I applied to our business idea, Eye Spy. It was very well run and Dr. Holmes made sure that we all succeeded in our projects." said Jocelyn Vigh.
First place winners in the undergraduate track were Binbin Lu, Khylei Neal, and Jannet Javed for their business idea, Trackel, a software video package that integrates with any car to alert owners if anything touches or hits their car. Binbin Lu, a senior at RSBC, stated, "Through the RUSE competition, I realized that designing a product is not only about making a profit and putting the product on the track of development but also should help people keep up with the track of society."
Second place winners in the undergraduate track were Emanuel Rodrigeuz and Arianna Davis for their business idea, Interactive Esports, an online sports league for high school students that also taught them life skills. Third place winners were Robert Bougazelli and Jayna Randolph for their business idea, Effi-Sol, innovative mirrors that attach to solar panels that would quickly melt snow from solar panels so that they would be efficacious in snowy-climate locations.
Lloyd A. Freeman, Esq., who is an archon of Delta Epsilon Boulé and Chief Diversity Officer at Buchanan Ingersoll & Rooney PC, stated, "This is such an amazing program. To give students the opportunity to tap into their entrepreneurial skills through experiential learning makes RUSE unique. We are proud to continue our long-standing support of the program and its talented students." Phillip D. Woolfolk, who is the Chief Operating Officer of the African American Chamber of Commerce of New Jersey (AACCNJ), remarked, "I had the awesome privilege of filling in for our AACCNJ Founder and CEO, John Harmon, as judge for the pitch competition. The products and services they pitched were impressive, well thought out and in my opinion, viable in the marketplace. I cannot wait to see some of them available to the public for purchase and use.
Recruitment for the sixth cohort of RUSE students will commence in October 2022 and more information about the RUSE program and Rutgers School of Business–Camden can be found by visiting www.business.camden.rutgers.edu.
Written by:  Emanuel Rodriguez and Oscar Holmes IV