Business Leader Development Program (BLDP)

- Transformative Leaders for the Emerging Future
BLDP prepares students to undertake socially responsible leader roles in businesses and organizations. The program offers opportunity to develop:
Personal leadership skills
Professional leadership skills and networking opportunities
Socially responsible leadership skills
The Rutgers School of Business–Camden's Business Leader Development Program (BLDP) is where tomorrow's business and community leaders can hone the skills they need to reach their full potential as leaders. Students who qualify for the BLDP will have the opportunity to network and receive enhanced training and mentorship by RSBC faculty, as well as area business leaders.
At the heart of the BLDP program is a three-credit seminar course taught in a seminar format. BLDP seminars cover leadership topics related to the current and emerging concerns around
Health and well-being
Poverty and economic growth
Equity, inclusion, diversity, inequality
Innovations for sustainable future
Climate change issues
Responsible consumption and production
BLDP classes typically meet on Friday mornings each semester. After a student is admitted to the program, the required BLDP seminar is available to undergraduate students of all majors and can count as a business elective.
The BLDP is not like any other program at RSBC. It has a higher level of expectations and demands. Students can learn about area business leaders and build their network by participating in our activities described below. For those who succeed, it can open the door to a world of opportunity. 
The BLDP offers a range of programs, workshops, and off-campus trips that complement our BLDP seminar. Events include:
The BLDP is available to all Rutgers–Camden undergraduate students of all majors who meet the requirements. To qualify, students must:
The Spring 2023 Application is now open! Priority will be given to applications received by November 18. Applications are accepted until all seats are filled.
Spring 2023 BLDP Seminar
The seminar topic is Transformative Business Leader: Creating a Positive Change, taught by Dr. Keanna Ralph.
In addition to the BLDP course, students can complete the BLDP Honors Certification. The certification combines the traditional coursework with out-of-classroom opportunities for students to demonstrate active development of leadership skills and habits. Each of these opportunities carry a point value referred to as "leadership units." In order to complete the BLDP Honors Certification, students must earn a total of 14 leadership units while enrolled in a Rutgers-Camden academic program.
The BLDP provides an opportunity for qualified undergraduate students of all majors to receive enhanced leadership training, networking, and mentoring by RSBC faculty and industry business leaders. Through Credly. com, RSBC currently offers three potential badges, or digital credentials, for the BLDP program, depending on the activities completed by the student and the focus of the leadership units completed by the student.
One of the highlights of the BLDP calendar is Executive Shadowing. It gives BLDP students the opportunity to spend time shadowing a local executive—accompanying them to meetings, observing working sessions, and anything else the Executive has scheduled for the day. It's a rare opportunity to get an up-close look at how Executives spend their time.
The deadline to apply for the Spring 2023 Executive Shadowing is January 27th.

The BLDP is guided by a strict Code of Conduct.
Check out our FAQs page for some answers.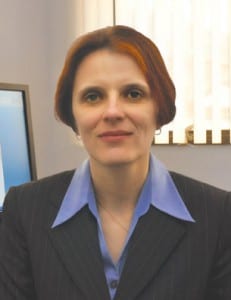 A Message from the Director
Dear Students: 
The Business Leader Development Program can enable you to build leadership skills and insights that are valuable in your professional career.  Students will learn basic leadership principles and conduct a self-assessment of their leadership style. They will build public speaking expertise and develop skills in through numerous networking opportunities with local business leaders, executives, and previous program participants. Please email me if you have any questions about the BLDP.
Best wishes for your success here at Rutgers-Camden!
Dr. Yuliya Strizhakova
Director, BLDP
Our Values are our Compass
The Rutgers School of Business–Camden Business Leader Development Program emphasizes that leadership is a skill that can be learned, practiced, and sharply honed. Our values reflect our commitment to developing the leadership skills and abilities that are already inherent in our high-achieving BLDP students.
The values of the BLDP are:
Check out our FAQs page for some answers.