Rutgers School of Business–Camden


Commencement 2023
Congratulations Class of 2023!
August 2022, October 2022, and January 2023 graduates are invited to walk in our May 2023 Campus-wide Ceremony, events, and Rutgers School of Business–Camden's Commencement Convocation.
Rutgers University—Camden's Rites of Passage Ceremony, Graduation Picnic and Campus-wide Commencement Ceremony will take place at Freedom Mortgage Music Pavilion in Camden as follows:
Monday, May 15, 2023
Rites of Passage Ceremony:

10:00 a.m. – Noon.
The Rites of Passage Ceremony is a pre-commencement celebration to honor Black and Latinx-identified students who through resolute persistence have successfully completed an Undergraduate or Graduate degree at Rutgers University–Camden.
Graduation Picnic: 1:00 p.m. – 3:00 p.m. @ Rutgers—Camden campus in front of the Paul Robeson Library
Rutgers—Camden Campus and Graduate School Commencement: 4:00 p.m. – 6:30 p.m.
Tuesday, May 16, 2023
Rutgers School of Business–Camden Commencement Convocation:

9:00 a.m. – 10:30 a.m.
*Students should plan to arrive at 8:00 a.m. Additional instructions will be sent to graduating students closer to the ceremonies. 

Freedom Mortgage Music Pavilion (formerly BB&T Pavilion)
1 Harbor Boulevard, Camden, NJ 08103
Parking: City of Camden Parking Authority:
Lot 1, South Delaware Avenue, Camden, NJ 08103
Lot 33, 537.-549 2nd Street, Camden NJ 08103
Information regarding academic regalia for the Class of 2023 will be updated closer to commencement.
Other Regalia, Cords, and Sashes:
Several student groups and organizations give their members cords, sashes, etc. Students may wear these items at their own discretion.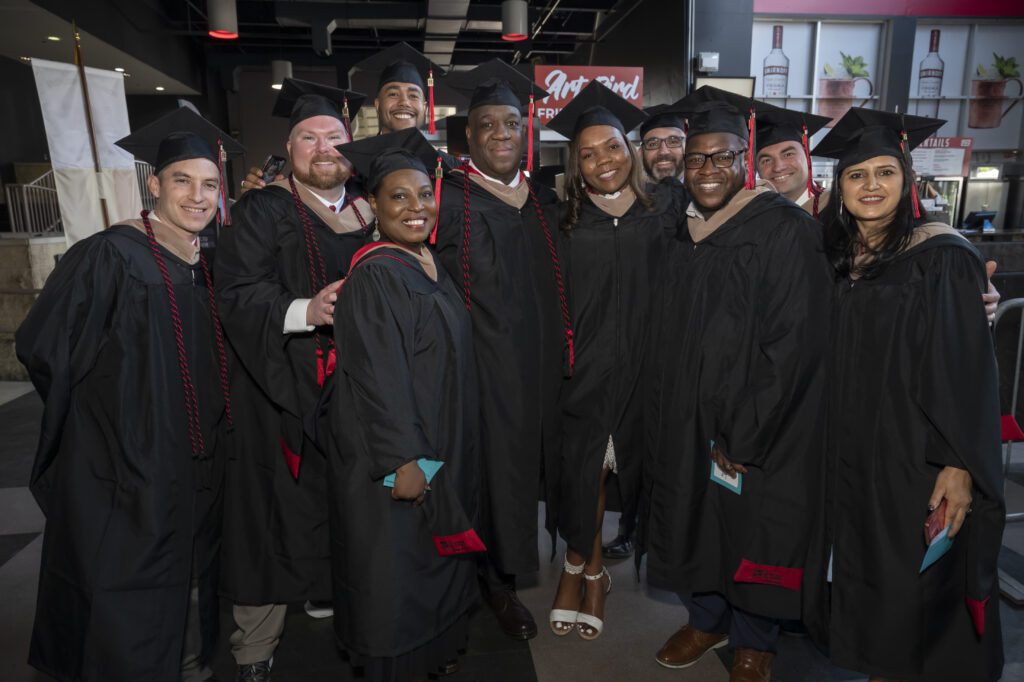 Graduation Photography Portraits
Information regarding senior portraits for the Class of 2023 will be updated closer to commencement.
The Rutgers School of Business–Camden awards degrees three times a year: Fall (August / October), Winter (January), and Spring (May). To be considered for graduation, pending graduate students must submit a Diploma Application online within the time frames outlined below.
It is the responsibility of each student to ensure that all the graduation requirements of the school, including certification of the major, have been fully met well before the expected date of graduation. Student records are officially closed upon graduation. A graduate cannot retroactively improve his or her cumulative grade-point average by completing work or taking additional courses after the degree has been conferred.
Application Periods:
Students graduating in August, October, and January participate in the commencement ceremony in the following May. 
**Unless the application is filed by the appropriate deadline, the degree is not conferred and graduation is delayed.**
August, October, and January graduates who did not elect to have their diplomas mailed are able to pick up their diplomas at any time, including the day of their graduation ceremony, at the One Stop.  
Diplomas for May graduates will be available by the beginning of July. Students are able to have their diplomas mailed or held for pickup at the Rutgers University–Camden One Stop Student Services Center. If selecting the mailing option, please log in to the Rutgers Personal Information Page and click on the "Address Update" tab to verify your address on file is correct. If your mailing address needs to be updated, please email camreg@camden.rutgers.edu. 
NOTE: Any student with a financial hold over $100 will have to resolve their hold in order to receive their diploma.
Should you have any questions or issues, please feel free to email the Office of the Registrar at camreg@camden.rutgers.edu
What happens if degree requirements are not met?
Individuals who have not met their requirements for graduation will be notified. If a problem is discovered during the final certification process, notification will be made by certified mail or email. Students who are ineligible to graduate based on their grades will be notified by phone or email.
***Only students who have successfully completed all graduation requirements may participate in the commencement ceremony and convocation.***