Rutgers School of Business–Camden


Commencement 2023
Congratulations Class of 2023!
August 2022, October 2022, and January 2023 graduates are invited to walk in our May 2023 Campus-wide Ceremony, events, and Rutgers School of Business–Camden's Commencement Convocation.
Rutgers University—Camden's Rites of Passage Ceremony, Graduation Picnic and Campus-wide Commencement Ceremony will take place at Freedom Mortgage Music Pavilion in Camden as follows:
Monday, May 15, 2023
Rites of Passage Ceremony:
10:00 a.m. – Noon
Freedom Mortgage Pavilion
The Rites of Passage Ceremony is a pre-commencement celebration to honor Black and Latinx-identified students who through resolute persistence have successfully completed an Undergraduate or Graduate degree at Rutgers University–Camden.
Graduation Picnic:
1:00 p.m. – 3:00 p.m.
Freedom Mortgage Pavilion
Rutgers—Camden Campus and Graduate School Commencement:
4:00 p.m. – 6:30 p.m.
Freedom Mortgage Pavilion
We invite all undergraduate and graduate level graduates, as well as their families, to attend!
Tuesday, May 16, 2023
Rutgers School of Business–Camden Commencement Convocation:
Names will be read at this ceremony and graduates will have the opportunity to walk across the stage.
9:00 a.m. – 10:30 a.m.
Freedom Mortgage Pavilion
*Tickets will not be required for the RSBC Convocation. Students should plan to arrive at 8:00 a.m. Additional instructions will be sent to graduating students closer to the ceremonies. 
Freedom Mortgage Music Pavilion (formerly BB&T Pavilion)
1 Harbor Boulevard, Camden, NJ 08103
Parking: City of Camden Parking Authority:
Lot 1, South Delaware Avenue, Camden, NJ 08103
Lot 33, 537-549 2nd Street, Camden, NJ 08103
Academic regalia and other commencement items are now available for purchase. For more info on regalia packages, click here. 
Shop online at https://herff.ly/rucamden or visit the University District Bookstore located at 601 Cooper St, Camden, NJ 08102.
Cap and Gown Order Deadlines:
In-store Pick-Up: March 24, 2023
Ship-to-Home: April 14, 2023 (shipping fees apply)
You may also visit the University District Bookstore and buy in-person from 3/7/23 – 5/17/23.
Please note:
Honors cords are not available until academic units calculate honors closer to the graduation date. In order to be eligible to purchase honor cords, Bookstore associates will check if your name appears on honor listing that have been provided to the University District Bookstore by academic units.
Several student groups and organizations give their members special cords, stoles and sashes. These are not for sale at the University District Bookstore. 
For more information contact our HJ grad specialist: 
Chris Urban at 215-245-1142 or curban@herffjones.com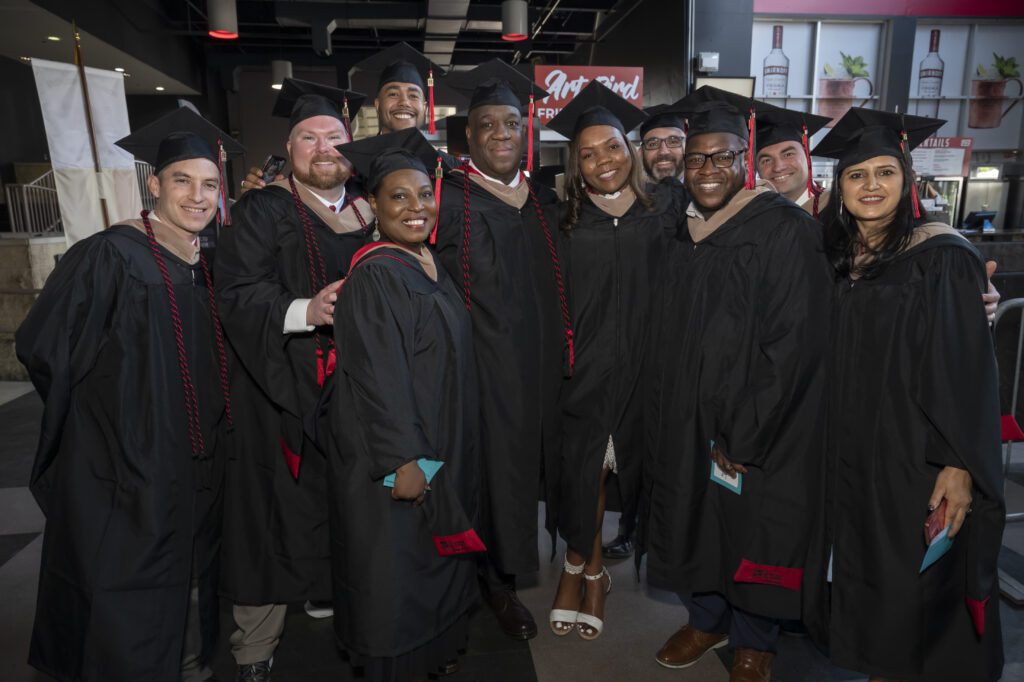 Graduation Photography Portraits for the Class of 2023
Photographers from Prestige Photography by Lifetouch will be on campus from 10:30 a.m. – 6:30 p.m. as follows:  
  March 27- March 31, 2023:

 Campus Center, Lower Level, West BC Conference Room

   April 11-13, 2023: Campus Center, Lower Level, West BC Conference Room
Schedule your appointment at www.ouryear.com, entering school code 34
When you schedule your appointment, you will receive complete information on how to prepare for your sitting. Don't forget that you can use these portraits for your professional networking and job search sites. 
Don't miss out on capturing this once in a lifetime achievement.
Commencement Speaker Nomination Information
One undergraduate student and one graduate student will be selected for the role of student commencement speaker for the Commencement Convocation. Being chosen as a speaker is one of the highest honors a graduate can achieve and carries tremendous responsibility. Graduates from any Program offered by the School of Business–Camden, regardless of location (day, evening, off-campus, or online), are eligible to be nominated as a Commencement Student Speaker.
The Student Speaker Selection Committee will review the submission packages from all finalists and will select the chosen speakers. For more info, go to: 
Commencement Speaker Nomination Information
The Rutgers School of Business–Camden awards degrees three times a year: Fall (August / October), Winter (January), and Spring (May). To be considered for graduation, pending graduate students must submit a Diploma Application online within the time frames outlined below.
It is the responsibility of each student to ensure that all the graduation requirements of the school, including certification of the major, have been fully met well before the expected date of graduation. Student records are officially closed upon graduation. A graduate cannot retroactively improve his or her cumulative grade-point average by completing work or taking additional courses after the degree has been conferred.
Application Periods:
Students graduating in August, October, and January participate in the commencement ceremony in the following May. 
**Unless the application is filed by the appropriate deadline, the degree is not conferred and graduation is delayed.**
Students are able to have their diplomas mailed or held for pickup at the Rutgers University–Camden One Stop Student Services Center. If selecting the mailing option, please log in to the Rutgers Personal Information Page and click on the "Address Update" tab to verify your address on file is correct. If your mailing address needs to be updated, please email camreg@camden.rutgers.edu.

NOTE: Any student with a financial hold over $100 will have to resolve their hold in order to receive their diploma.
Should you have any questions or issues, please feel free to email the Office of the Registrar at camreg@camden.rutgers.edu
What happens if degree requirements are not met?
Individuals who have not met their requirements for graduation will be notified. If a problem is discovered during the final certification process, notification will be made by certified mail or email. Students who are ineligible to graduate based on their grades will be notified by phone or email.
***Only students who have successfully completed all graduation requirements may participate in the commencement ceremony and convocation.***