Rutgers School of Business-Camden


Strategic Plan
·  Collegiality      ·  Inclusiveness     ·  Innovation     ·  Rigor     ·  Relevance     ·  Impact
Our strategic priorities are grounded in three intertwined value domains: excellence in knowledge creation, inspired learning environment, and co-created & engaged Community.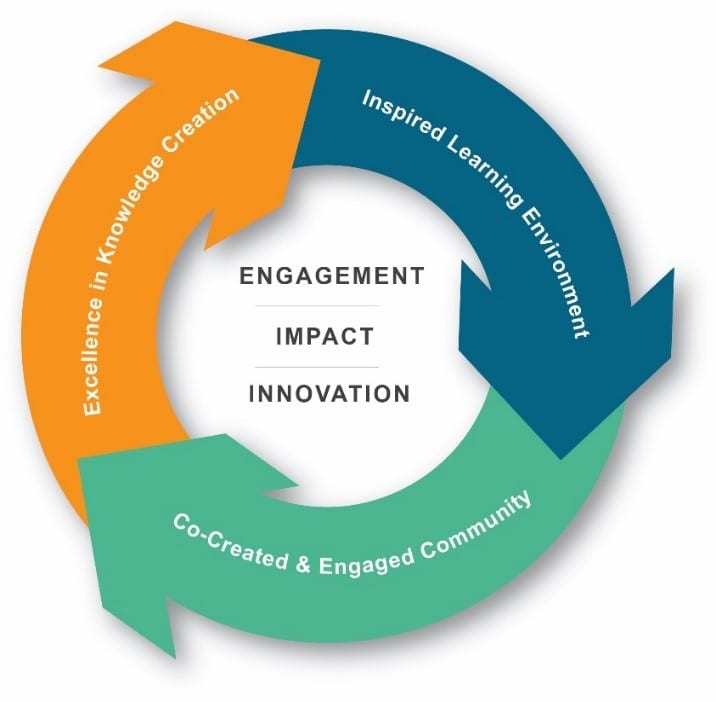 Excellence in Knowledge Creation
1. Foster research productivity and invest in intellectual and human capacity.
Continue to invest in faculty and professional staff across all business areas.
Provide incentives that encourage research productivity.
Create Centers of Excellence and Endowed Research Chairs and Professorships.
Cooperate with RBS Newark/New Brunswick to mentor Ph.D. students.
Promote faculty research and visibility.
2. Design and develop innovative and high quality academic programs.
Introduce more career-oriented undergraduate tracks within majors and Focused Learning Modules at the MBA level.
Create interdisciplinary and cross-disciplinary modules and programs.
Plan offerings of interesting and relevant degree and non-degree certificate programs.
Explore offering market-driven innovative graduate programs.
Promote unique fractional learning modules and customizable and stackable programs.
Inspired Learning Environment
3. Create a transformational student success environment.
Configure all business processes and activities with a student-centric approach from application to graduation.
Continue developing Professional Skill Forums, requiring student participation and involvement in the Professional Development Labs, through the Student Experience Center.
Develop and foster an ethical and entrepreneurial mindset.
Focus on early warning systems that identify and flag problems and issues ahead of time to enhance retention and graduation rates.
Regularly monitor and measure student success metrics including retention, graduation and placement.
4. Develop and promote experiential learning.
Expand the internship program to include track specific opportunities within majors.
Promote relevant industry certifications such as the Bloomberg certification, SHRM, etc.
Encourage semester long and short term study-abroad opportunities to both on-campus and online students.
Introduce more experiential learning courses and opportunities.
Build and expand on the effective Business Leader Development Program (BLDP) and provide more corporate interaction opportunities to students.
Co-Created and Engaged Community
5. Create and promote a vibrant brand philosophy and identity.
Develop the RSBC brand to communicate a clear and distinct positioning.
Expand on the successful BTG and RUSE programs to foster access and improve quality and diversity.
Promote diversity and inclusion among all aspects of the business school.
Recruit and enhance admissions supported by delivering outreach activities for high school juniors and seniors.
Create merit, means, and responsibility based scholarship award programs.
Build and foster relationships with select international universities for mutually beneficial parallel degree and exchange programs.
6. Foster community and corporate partnerships and build and grow resources.
Explore avenues to work effectively with the growing Camden business community
Integrate better the Executive Education and Small Business Development Center (SBDC) units to deliver relevant and mutually beneficial programs to small, medium and large businesses.
Continue to build deeper and meaningful relations with alumni and friends of the Business School.
Identify passions and Inspire alumni and friends to invest in the school creating Centers of Excellence and building endowments for scholarships and professorships.
Continue efforts to rally support and involvement to build the new Business School facilities.