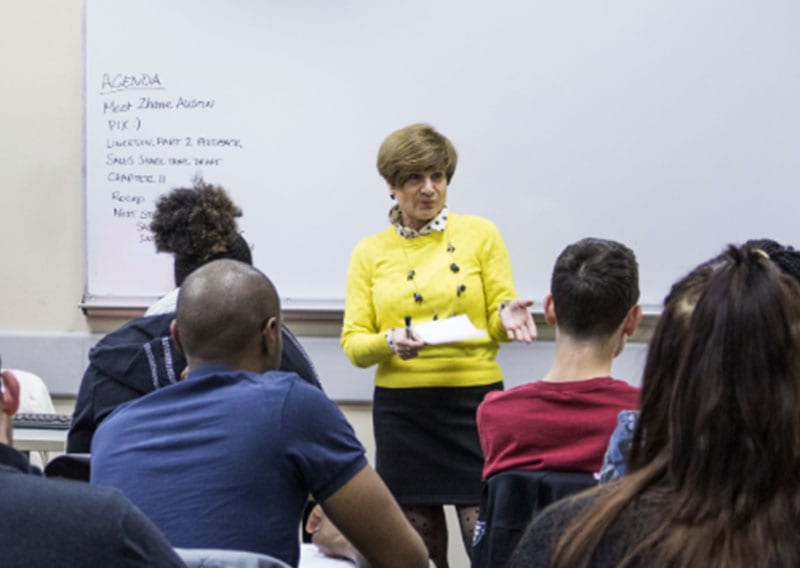 The Fast Track to the Business World
The Dual Degree Program at Rutgers School of Business-Camden (RSBC) offers highly motivated undergraduate juniors an opportunity to accelerate their MBA studies. Dual Degree students may enroll in up to 12 credits of graduate courses as full-time undergraduate senior, while paying undergraduate tuition. These 12 credits can be used for both undergraduate program and graduate program – double counted!
At the end of your senior year, students earn the bachelor's degree; Biology and Economics students will be eligible for certification of a Minor in Business Administration at the time of degree conferral. Once admitted to graduate program, graduate tuition and policies apply.
The Ultimate Head Start for Your Career
AACSB Accredited Programs
Save tuition costs
World-class Rutgers faculty
Build your professional network
Dual Degree Candidate Expectations
If You've Got the Drive, Get with the Program
The RSBC Accelerated BA/BS-MBA Dual Degree Program is a rigorous, ambitious program that accelerates the completion of undergraduate coursework and includes graduate-level MBA courses in what would traditionally be senior year. Graduate courses can be used for both undergraduate program and graduate program – double counted!
Students should plan to apply for the program in the second semester of their junior year. Early academic advising and planning are the keys to success!
STEP 1: Review Qualifications for Dual Degree Program
Eligible Applicants must:
Be a matriculating Rutgers–Camden undergraduate student pursuing a major in Accounting, Finance, Management, Marketing, or Business Administration, Economics (BA), or Biology (BA).

All on-campus and Off-Campus BBA students must maintain full time undergraduate status throughout their senior dual degree year with at least 6 undergraduate credits included.
Fully Online BBA students must be enrolled in at least 1 undergraduate course during each term of the senior dual degree year.

Have and maintain a Rutgers cumulative GPA of at least 3.25 at the point of application and through degree completion.
Meet the coursework requirements listed below with grades "B" or better:
Calculus
(50:640:118/50:640:121/52:135:205)

Microeconomics
(50:220:102)

Statistics/Quantitative Requirement: 

BS Business Students:
Introduction to Statistics II (50:960:284)
BBA Students: Applied Business Statistics (52:135:216)
Biology Students: Principles & Practices of Quant. Bio. (50:120:283)
Economics Students: Econometrics (50:220:322)

Introduction to Business Computing
(52:623:201)

Organizational Behavior
(52:620:303)

Introduction to Financial Accounting
(52:010:101)

Optimization & Spreadsheet Modeling (52:620:321)
STEP 2: Attend a REQUIRED Dual Degree Information Session Offered by RSBC Graduate Programs.
*Watch the recorded video of the Program Overview or sign up for the virtual information session below:
STEP 3: Apply for Dual-Degree Program (must have 75+ credits earned & a Rutgers GPA)
Submit Online Application and Supporting Documents by Deadline:
Fall Application Deadline: June 1st (priority deadline); August 20th (students enrolled in summer session)
Spring Application Deadline: December 1st (priority deadline); January 15th (students enrolled in winter session)
 Supporting Documentation:
Dual-Degree BS(BA)/MBA Program Pre-Application Form (Below)  
Current Résumé
Graduation Plan/Curriculum Worksheet (outlining remaining degree requirements and identifying 4 MBA courses requested) *
Unofficial non-Rutgers transcripts or Rutgers Transfer Summary Report (TSR), if applicable
To apply, please submit the following form and attach your curriculum worksheet, your resume, and transcripts.
The Rutgers School of Business–Camden Accelerated BA/BS-MBA Dual-Degree Program is for students who know what they want. Today, you'll find Dual Degree alumni in leadership roles in some of the most respected corporations in American including:
Acre Mortgage & Financial
Airgas, Inc.
American Water Works Company
Aramark
ARI
AtlantiCare
Bank of NY Mellon
Bayada Home Health Care
Children's Futures, NJ
Christie's
Comcast
Deutsche Bank Securities DowDuPont
Easter Seals New Jersey, Inc.
EisnerAmper
Ernst & Young
JP Morgan
Lockheed Martin
Morgan Stanley
Novacyl, Inc.
Novo Nordisk
NRG Energy – Princeton, NJ
Otis Elevator
Parx Casino
Prudential
Shell Oil
Sikorsky
State of NJ
Subaru of America
US Bancorp
US Navy
Verizon
Westinghouse Lighting Corp.

What Dual Degree Alumni Are Saying

Many of my peers in my graduate courses have been in the workforce for some time and therefore have been able to explain how the concepts we are being taught apply outside of the classroom. I really enjoy the opportunity for discussion and collaboration that are available being in the BA/BS-MBA Dual-Degree Program.

Furthering my education created greater awareness. I gained an understanding to solve problems that were yet to happen.
Visit RaptorConnect to make an appointment with your advisor.
Get detailed information on the program, entrance requirements, core courses, a sample degree completion Plan, and the Program Pre-Application.