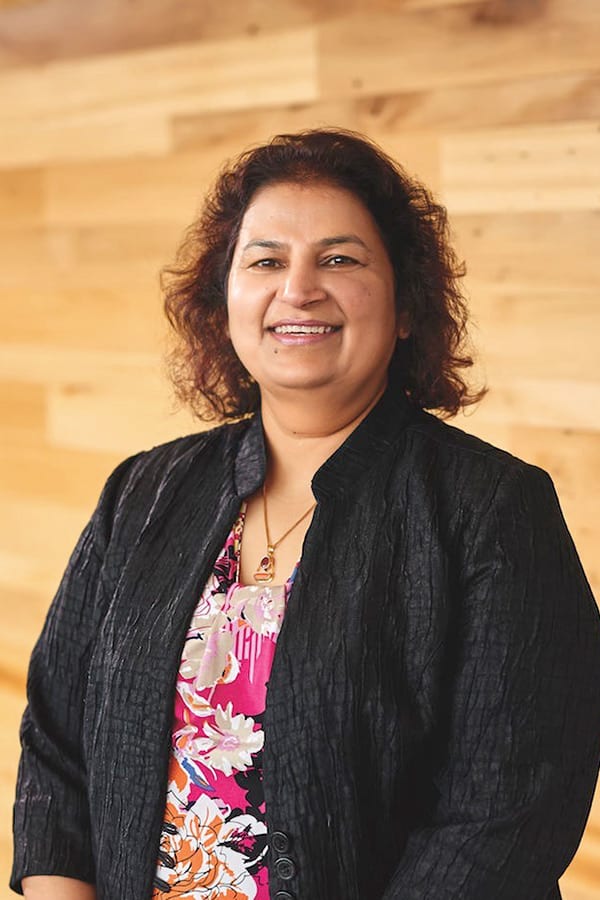 March 2021
Throughout the challenges of the past year, the Rutgers School of Busines­­­­s–Camden has met this crisis head-on by evaluating the impact that we make in delivering on our mission and planning for the work that lies ahead of us. Some of this impact is quantifiable – our 
Online Bachelor's Degree in Business
 has been ranked #11 nationally and #1 in the state of New Jersey by 
U.S. News & World Report
 and our 
Online MBA 
was ranked #76 and #2 by the same measures. A new online graduate certificate in 
Modern Financial Technologies
 will debut later this year and our recently launched Online
MS in Business Analytics
 enrolled over 35 students in its very first year. The accomplishments of our alumni and their positive impact on our communities are the best testaments to our mission as a public higher education institution. One such exemplary alum of the Rutgers–Camden business school,
Kris Kolluri
, was honored last month by the AACSB International (Association to Advance Collegiate Schools of Business) as a 2021 Influential Leader. With much pride, I note that Kris is one of only 25 outstanding graduates of AACSB-accredited business schools from around the world. These honorees are recognized for being influential catalysts for social change. We began this month by celebrating Women's History Month to recognize the important role that women play in furthering our progress but also to raise awareness around issues that women continue to face worldwide – from access to education and healthcare to equity in the workplace and in representation. Despite progress made over the past several decades, much more work lies ahead of us. At the School of Business–Camden, we continue to take important steps in developing and supporting women leaders. This year, we reinitiated the
 Women in Business Alliance
 student organization, which provides a forum to develop and empower our women business students and attain personal and professional success. The business school also partnered with 
Wings for Growth
, a non-profit organization with a deep commitment to empowering women through positive mentorship. Four students from our 
Professional MBA
 and 
Online MBA
 programs were selected as Wings for Growth mentees. These students will enhance their leadership skills through a 10-month collaborative project with Wings mentors. Additionally, featured in our newsletter today is 
Dr. Kristie McAlpine
, one of our many promising faculty, whose research has important relevance to industry and design of work. Finally, I am delighted to welcome three new members to our Dean's Leadership Council; all women leaders who are making a difference in the lives of others through their work: 
Veronica Hawkins
, Vice President for Talent Strategies and Solutions at 
NFI Industries
; 
Toni Pergolin
, President and CEO of 
Bancroft Inc
.; and 
Chaya Pamula
, Co-Founder, President, and CEO of 
PamTen Inc
. as well as a non-profit, 
SheTek
. More than ever before, equity and inclusion are driving leading brands and organizations. I am proud that our business school imbues these critical attributes in everything that we do: preparing students to strengthen the workplace, conducting path-defining research, and fostering economic growth by empowering communities, businesses, and families. On behalf of the Rutgers School of Business–Camden, I extend our profound gratitude for your engagement. There are many ways that you can continue to support our work: supporting student scholarships through the 
Dean's Academic Excellence Fund
or the 
Responsibility Challenge Fund
,; hiring our students for 
internships
 and 
full-time positions
;
 or serving as a guest speaker, to name a few.
I hope you enjoy the highlights in this newsletter and wish you and your loved ones the best of health.
Best wishes,

Monica Adya, PhD
Dean & Professor of Management
November 2020
Nearly eight months ago, I began my new role as Dean of the Rutgers School of Business–Camden, just as universities shifted from in-person to remote instruction. The year 2020 has certainly tested us in many ways, as individuals and as a society. As we continue to deal with the pandemic and its social and economic ramifications, and as we reflect on the unrest stemming from a fundamental expectation of equal rights for all, we recognize our critical role in developing a generation of future leaders who can positively impact their professional and personal worlds. It is time to reimagine our impact as a business school at a leading public institution. At RSBC, we are focusing our efforts on using past innovations as a springboard to envision the next decade so that our students, industry partners, and community think of Rutgers School of Business–Camden first – as a world-class leader in research and education, and in developing thoughtful leaders who can shape the future of our organizations and our communities. Our initiatives this year include strategic planning, expanding our student experiences, revising our graduate and undergraduate offerings, and heightening the visibility for Rutgers and our School of Business. As a friend and partner of Rutgers University-Camden, you will be a crucial partner in this re-imagination. We build this foundation on you – our alumni and friends. You support our efforts through scholarships and by opening doors for our students to see a world to which they can aspire. I hope you will continue to endorse these initiatives by contributing to the 
Dean's Academic Excellence Fund
 which goes to support our student scholarships, by creating 
internship opportunities
 for our students, serving as a guest speaker, or supporting the 
Dean's Strategic Initiatives Fund
that go toward creating new opportunities for our students, faculty, and community partnerships. Our partnership will strengthen our ability to prepare the business professional who can deliver value to business and to society as an innovative, thoughtful, and empathetic leader. On behalf of Rutgers School of Business-Camden, I extend a deep-felt gratitude for your continued engagement. In this newsletter, we feature our students, staff, and faculty – all of whom have demonstrated tremendous creativity and commitment through these fluid times. Their stories highlight not only how Rutgers School of Business–Camden delivers impact in unique ways, but also the character of our institution.
I wish you and your loved ones the best of health and good cheer.
Best wishes,

Monica Adya, PhD
Dean & Professor of Management