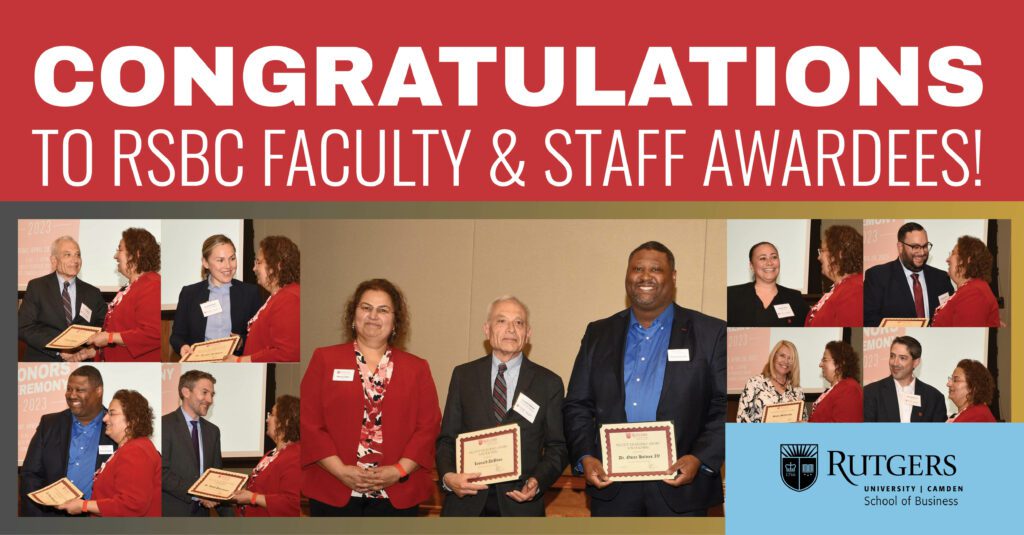 At Rutgers School of Business–Camden (RSBC), we pride ourselves in the work we do to provide a transformative learning environment that builds on the foundation of academic excellence and engagement. As is our tradition, this year, we recognized some of our dedicated faculty and staff members for delivering excellence through their service, teaching, and research.
FACULTY AWARDS
The following faculty were selected by school-wide teaching and research committees to receive this year's teaching and research awards from RSBC.
Excellence in Teaching: RSBC awards for excellence in teaching for contributions to support student learning and development.
Inaugural Award for Teaching Innovation: Dr. Kristie McAlpine, Assistant Professor of Management
Full-Time Faculty Award for Excellence in Teaching: Dr. Oscar Holmes IV, Associate Professor of Management
Part-Time Faculty Award for Excellence in Teaching: Leonard DeBona, Lecturer of Management
Excellence in Research: RSBC awards for excellence in research are given to two faculty who have published impactful papers in top journals in their field.
Dr. David Dwertmann, Associate Professor of Management, for his paper titled: Receiving service from a person with disability, published in the Academy of Management Journal
Dr. Wei Jiao, Assistant Professor of Finance, for his paper titled: Is there a home field advantage in global markets, published in the Journal of Financial Economics.
Chancellor's Awards: Each year, Rutgers–Camden Chancellor awards faculty for excellence in delivering on the campus and university mission. Several RSBC faculty were recognized for their contributions:
Chancellor's Award for Outstanding Research and Creative Activity: Dr. Wei Jiao, Assistant Professor of Finance
Chancellor's Award for Excellence in Teaching: Dr. Kristie McAlpine, Assistant Professor of Management
Chancellor's Awards for Diversity, Inclusion, and Civic Engagement:
Faculty Research Award for Scientific Contributions Toward Diversity and Inclusion: Dr. Briance Mascarenhas, Professor of Management; Dr. S. Karti Puranam, Assistant Professor of Management
Student Civic Engagement: Keyann'a Watkins, Lecturer
STAFF AWARDS
Each day, I am inspired by the dedication and remarkable talents of our staff teams and more importantly, how our staff use these talents and skills to give credence to our institutional mission. Our staff awards, selected by RSBC's Staff Professional Development and Awards Committee, recognize the hard work, dedication, and innovativeness of our team.
Staff Excellence Award: This award is for a full-time staff member who has shown a commitment to his/her department and the school and has worked to contribute to the overall mission of RSBC. This year's recipients for this award were:
Genesis Alves, Student Counselor, Academic Services Office
Helene Carlucci, Administrative Coordinator, Academic Administration
Rising Star Award: This year's award, given to a junior staff member who represents the values of the school and shows promise for the future, was received by:
Matthew Vazquez, Student Counselor, Undergraduate Academic Services Office
Staff Recognition Awards: Given ad hoc to a staff member for service above and beyond the call of duty, this year's recipients of the staff recognition awards were:
Jackie Liccketto, Business Aide, Office of Budget and Planning
Diane McCarthy, Admissions Coach, Marketing and Recruiting Team
Daniel Rosenthal, Student Experience Officer, SEED Office
Our faculty and staff are an integral part of this foundation. I deeply appreciate their tireless efforts to ensure smooth academic and school operations and the success of our students.