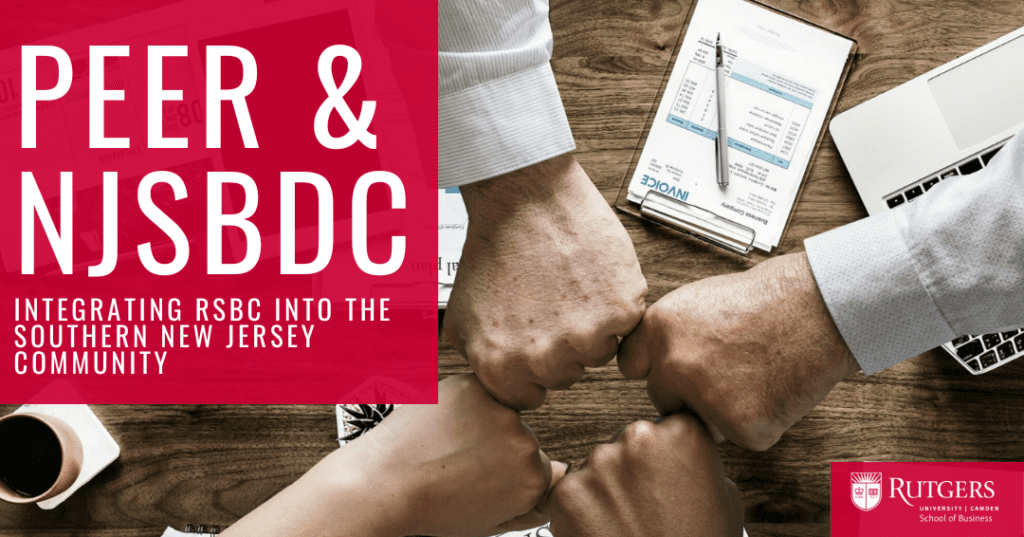 Professional and Executive Education at Rutgers (PEER) and the Small Business Development Center at Rutgers–Camden (NJSBDC) have teamed up to put together an offering that further extends RSBC into the greater Southern New Jersey community. NJSBDC provided the "block and tackling" that organizations needed to launch, while PEER provided a leadership toolkit that supports the ongoing sustainability and growth of an organization after it has been successfully launched.
The NJSBDC, under the leadership of Director Bob Palumbo, brings its expertise as part of a statewide network that provides comprehensive consulting services and educational opportunities to small business owners and potential owners throughout the State of New Jersey. The NJSBDC at Rutgers–Camden serves Burlington, Camden, Gloucester, and Salem Counties, with several convenient training and counseling locations. It links the resources of a variety of agencies that contribute to the growth of the small business community in the State of New Jersey. These agencies include: the US Small Business Administration (SBA), the State of New Jersey, other college-based centers throughout the State, and the private sector. Through this combined effort, the small business community can promote the State's economic development.
Accessing resources from RSBC and a network of professionals, PEER – led by Director Peter McAliney – is RSBC's unit that focuses on short duration, non-credit certificates and programs for individuals and organizations, which include private sector entities, government agencies, and non-profits. For individuals, it supports career and professional development for those who are looking to advance in their current job, enhance their resumes with new skills, interview for advancement in new organizations, or switch careers. For organizations, PEER has developed cohort-based programs in various areas, such as leadership, project management, and lean six sigma to support an organization's ability to provide specialized training and development opportunities to their employees where organizations lack expertise. PEER also can supplement training and development departments with individual training for new or existing employees to "level up" skills that may be lacking.
PEER and NJSBDC recently collaborated to complete two projects for organizations in Southern New Jersey.
Working with the City of Salem to support start-up minority small business owners and entrepreneurs, this program was initiated with a 1.5-hour preliminary business evaluation and was then followed by a combination of ten on ground sessions and webinars. The learning sessions were accompanied by ongoing individual coaching and mentoring support. In addition to the learning obtained in the sessions, the program focused on building an ongoing, self-sustaining network among program participants to support them as they began the work of building their businesses.
Working with the Camden Cares – The Enterprise Center and ongoing minority small business owners, this program focused on leveraging the success that selected small business owners had already achieved and supported their growth to the next level in their organizational life. The program provided tools to participants to increase their effectiveness as business owners and build on that to support them to become an effective leader in a growing business.
Both projects awarded participants a Certificate of Completion from Rutgers University. These certificates add credibility for small business owners when they are seeking additional funding and potential partners, increase the capabilities and commitment of their workforce, and automatically qualify participants for free SBDC services, thus bypassing the standard SBDC application process.
Professional and Executive Education at Rutgers (PEER)
Learn more at professional.rutgers.edu, on LinkedIn, on Twitter, or on Facebook.

Small Business Development Center (NJSBDC) at Rutgers-Camden
Learn more at https://rsbdc.org, on LinkedIn, or on Facebook