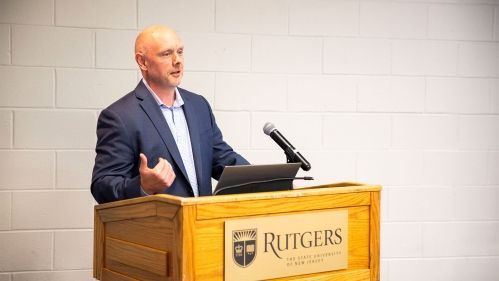 As concepts of environmental justice evolve, Rutgers School of Business–Camden was proud to host "Environmental Justice: Perspectives and Solutions to Build a Sustainable Future Together" with the Northern & Central New Jersey Chapter of the Air & Waste Management Association.
"One of our strategic goals is to be a business school with genuine societal impact, and this event gave us an opportunity to bring the community together to have a meaningful discourse on environmental justice," said Monica Adya, dean of Rutgers School of Business–Camden. "Providing opportunities to bring different constituencies together on critical issues is our responsibility as an academic institution."
The September 27 event brought together more than 100 thought leaders, developers, government representatives, and community members to discuss a path forward from the long history of pollution and environmental degradation that has plagued many of America's low-income communities.
For more information on the conference, go to: https://camden.rutgers.edu/news/school-business-takes-inequities-environmental-justice-conference