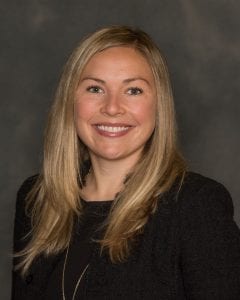 Ph.D., Cornell University
Kristie McAlpine joined the Rutgers School of Business as an Assistant Professor of Human Resources and Organizational Behavior in 2018. She received her B.A. in Psychology from Kalamazoo College, her Master of Human Resources and Labor Relations (MHRLR) from Michigan State University, and her M.S. and Ph.D. from Cornell University. Her research focuses on flexible work arrangements, diversity and inclusion, and the work-family interface. Her work on flexible work arrangements and innovation in high-tech teams was awarded the 2018 Best Dissertation Paper Award from the Academy of Management's Gender and Diversity in Organizations division. Kristie is also currently a 2018 Early Career Fellow of the Work-Family Researchers Network.
Research Interests: Flexible Work Arrangements; Diversity and Inclusion; Work-Family interface
Courses Taught: Talent Management (Undergraduate); Leading Innovation and Creativity (MBA).
Representative Publications:
Capitano, J., McAlpine, K., Greenhaus, J. (2019). Organizational influences on employee boundary permeability control: A multidimensional perspective. In M. R. Buckley, A. R.
Wheeler, & J. R. B. Halbesleben (Eds.) Research in Personnel and Human Resources Management. UK: Emerald Group Publishing Limited.
Bell, B., McAlpine, K., N. S. Hill. (2019). Leading from a distance: Advancements in virtual leadership research. In R. N. Landers (Ed.), Cambridge Handbook of Technology and
Employee Behavior. New York, NY: Cambridge.
McAlpine, K. (2018). Flexible work and the effect of informal communication on idea generation and innovation. Academy of Management Best Paper Proceedings, Briarcliff Manor, New York, NY.
Kossek, E.E., Piszczek, M.M.,McAlpine, K., Hammer, L.,, Burke, L., (2016). Work schedulers as job crafters of employment practice in long-term health Care. Industrial and Labor Relations Review, 69(4), 961-990.
McAlpine, K. (2015). The ripple effect of schedule control: A social network approach. Community, Work, & Family, 18(4), 377-394.