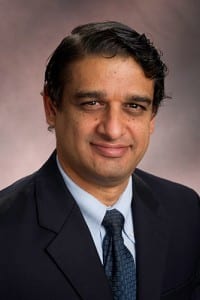 Associate Professor of Professional Practice
Ph.D., University of Rochester, NY
Dr. Sundaresan studies information goods and services and their pricing strategies, exploring such topics as contingency pricing, pricing under obsolescence, and competition under value uncertainty. His research on the management of information resources includes the use of incentives in knowledge management systems and corporate IT standards. His research interests also span automated database design and information technology impact on supply chains. He was awarded the IBM Faculty Fellowship in 2003. His work won research awards in 1995, 96, 97 and 2002 at various premier IS conferences. Dr. Sundaresan's research has appeared in the Journal of Management Information Systems, International Journal of Electronic Commerce, Information Systems Frontiers, ACM Transactions on Database Systems, Data & Knowledge Engineering and other journals. He has served as an ad-hoc referee for many journals including Management Science, Information Systems Research, MIS Quarterly, and Journal of Management Information Systems.
Dr. Sundaresan was a member of the faculty at the Pennsylvania State University before joining Rutgers. He has also held software engineering and consulting positions at international corporations.
Research Interests: Pricing of information goods and services; Knowledge Management; IT standards; IT in supply chains; Automated database design
Courses Taught: Economics of Information Technology and Management, Management Information Systems, Telecommunications and Network Security Management, Telecommunication and Internet Technologies.
Representative Publications:
Sundaresan, Shankar and Zuopeng Zhang, "Knowledge-sharing Rewards in Enterprise Social Networks: Effects of Learner Types and Impact of Digitisation," Enterprise Information Systems, 14(5), 2020, pp 661-679. https://doi.org/10.1080/17517575.2020.1737884
Sundaresan, Shankar and Zuopeng, Zhang, "Incentive Policies for Facilitating Knowledge Sharing in an Enterprise Social Network," Journal of Information Technology Theory and Application, 19(2), June 2018, pp 31-56.
Sundaresan, Shankar and Zuopeng, Zhang, "Knowledge Sharing in Organizations: Role of Incentives and Information Systems," Journal of Industrial Integration and Management, 1 (3), Sep 2016 [32 Pages].
https://doi.org/10.1142/S2424862216500056
Balakrishnan, Anant, Shankar Sundaresan, and Bo Zhang, "Browse and Switch: Retail-Online Competition under Value Uncertainty," Production and Operations Management, 23(7), 2014, pp 1129-1145.
Sundaresan, Shankar and Zuopeng Zhang, "Parallel teams for knowledge creation: Role of collaboration and incentives," Decision Support Systems, 54(1), 2012, pp 109-121.
Zhang, Zuopeng and Shankar Sundaresan, "Knowledge markets in organizations: Knowledge Sharing with Trust and Signaling," Knowledge Management Research & Practice, 8, 2010, pp 322-339.
Pangburn, Michael and Shankar Sundaresan, "Capacity Decisions for High-tech Products with Obsolescence," European Journal of Operational Research, 197, 2009, pp 102-111.
Bhargava, Hemant and Shankar Sundaresan, "Computing as Utility: Managing Availability, Commitment and Pricing through Contingent Bid Auctions" Journal of Management Information Systems, Vol. 21, No. 2, Fall 2004, pp 201-227.
Bhargava, Hemant and Shankar Sundaresan, "Contingency Pricing for Information Goods and Services under Industrywide Performance Standard" Journal of Management Information Systems, Vol. 20, No. 2, Fall 2003, pp 113-116.
Balakrishnan, Anant, Soundar Kumara, and Shankar Sundaresan, "Manufacturing in the Digital Age: Exploiting Information Technologies in Customer-directed Product Realization" Information Systems Frontiers, 1:1, 1999, pp. 25-50.
Storey, Veda C., Debabrata Dey, Harald Ullrich, and Shankar Sundaresan, "An Ontology-based Expert System for Database Design Automation," Data & Knowledge Engineering, Vol. 28, No. 1, 1998, pp. 31-46.
Storey, Veda C., Roger H.L. Chiang, Debabrata Dey, Robert C. Goldstein, and Shankar Sundaresan, "Database Design with Common Sense Business Reasoning and Learning," ACM Transactions on Database Systems, Vol. 22, No. 4, December 1997, pp. 471-512.
Dewan, Rajiv M., Abraham Seidmann, and Shankar Sundaresan, "Communication in Hierarchical Organizations and Standards Policies for Information Technology," International Journal of Electronic Commerce, Vol. 1, No. 3, Spring 1997, pp. 43-63.
Dewan, Rajiv, Abraham Seidmann, and Shankar Sundaresan, "Strategische Keuzen bij IS-ifrastructuren: Bedrijfsstandaarden versus decentrale optimalisatie," Informatie, Jaargang 37 Themanummer, 1995, pp. 678-687.(Dutch version of the Conference best paper selected for Informatie )
"Incentives and Information Systems for Knowledge Sharing and Learning," with Zuopeng Zhang (under second round revision)"
"Browse and Switch: Retail-Online Competition under Value Uncertainty," with Anant Balakrishnan and Bo Zhang.(under revision)
"Incentives for Organizational Knowledge Discovery and Diffusion in Parallel Teams," with Zuopeng Zhang. (under 2nd review)
"Quality Uncertainty in IT-intensive Commerce: Optimal Design of Quality-Contingent Prices," with Hemant Bhargava.
"Technology Adoption in Organizations: Use of Incentives and Standards for Control and Coordination," with Rajiv Dewan, Marshall Freimer and Abraham Seidmann.
"Dynamic Pricing for an Obsolescing Product with Heterogeneous Customers" with Michael Pangburn.
"Supply Chain Contracts for Managing Multi-tier Suppliers."
Honors and Awards:
Trade-mark on the term Knowledge Quotient™ (KQ) (as part of a team at eBusiness Research Center) (2004)
IBM Faculty Fellow Award (2003)
Best mini-track paper (competitive strategy and IS), Hawaii International Conference on System Sciences (2003)
Winmill Software Faculty Fellow (1999)
Best Research Paper Award Entity-Relationship Conference '97
Best Research Paper Award, Workshop on Information Technology & Systems '96
Best Research Theme Paper Award, International Conference on Information Systems '95
Media Guide
Dr. Shankar Sundaresan, is assistant professor of management at the Rutgers School of Business—Camden. He can discuss:
Software Industry:
• Pricing of IT goods and services
• Contingent auction for utility computing
Information Technology/Knowledge Management:
• Incentives and information technology for knowledge sharing and learning in organizations
• Incentives for innovation in parallel teams
• Knowledge markets
Supply Chain Management:
• Role of IT in manufacturing
• Information, contracts and supply chain structures
Microprocessor Industry:
• Pricing of high-tech products under obsolescence
Pricing:
• Pricing under quality uncertainty
• Pricing under demand uncertainty
• Pricing under value uncertainty
• Pricing under obsolescence
Database Management:
• Automated database design