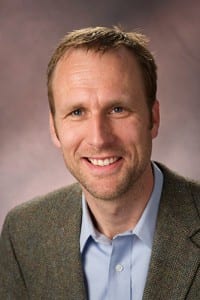 Associate Professor, Area Head, & Director of the Ragone Center for Accounting Excellence
Ph.D., Indiana University
Ivo Jansen is an Associate Professor of Accounting, and has been at the Rutgers School of Business | Camden since 2007. He received his B.A. in business economics from the Hogeschool voor Economische Studies in Rotterdam, the Netherlands; his M.B.A. from Loyola University in Chicago; and his Ph.D. in accounting from Indiana University in 2001. His research focuses on valuation, earnings management, trading volume and mergers & acquisitions. It has been published in journals such as Contemporary Accounting Research, Journal of Financial Economics, Financial Analysts Journal, and Journal of Accounting and Public Policy, among others.
Professor Jansen teaches financial accounting in the undergraduate, MBA, and the professional graduate programs. He has received  Superior Achievement Awards for Teaching in the Rutgers School of Business; the Chancellor's Teaching Excellence Award on the Camden campus; and The Presidential Fellowship for Teaching Excellence and The Warren I. Susman Award for Excellence in Teaching at the university level.
Research Interests: Financial Statements Analysis; Valuation; Earnings Management; Mergers & Acquisitions; Trading Volume
Representative Publications:
"Fear and greed: a returns-based trading strategy around earnings announcements," with Andrei Nikiforov, The Journal of Portfolio Management 42 (4), 2016: 88-95.
"Trading volume around announcements of mergers and acquisitions," Applied Economics Letters 22 (15), 2015, 1204-1208.
"A diagnostic for earnings management using changes in asset turnover and profit margin," with Teri L. Yohn and Sundaresh Ramnath,Contemporary Accounting Research 29 (1), 2012, 221-251.
"Cashing in on managerial malfeasance: A trading strategy around forecasted executive stock option grants," with Lee W. Sanning, Financial Analysts Journal 66 (5), 2010, 85-93.
"Diversification to mitigate expropriation in the tobacco industry," with Messod D. Beneish, Melissa F. Lewis and Nathan V. Stuart, Journal of Financial Economics 89 (1), 2008, 136-157. 
"Do auditor resignations convey private information about continuing audit clients?" with Messod D. Beneish, Patrick E. Hopkins, and Roger D. Martin, Journal of Accounting and Public Policy 24 (5), 2005, 357-390.